Centering Intersectionality in Metrics of Postsecondary Access and Success: Implications for Equity in Missouri Higher Education
Oct. 26 | 2:45 – 3:15 p.m.
College completion is important for both individuals and the economy, as the Coordinating Board for Higher Education recognized in setting the "Big Goal." Yet, disparities in degree completion by student demographic characteristics have been persistent over time. Using publicly available data from DESE and DHEWD, we present trends in postsecondary access and success for Missouri high school graduates, providing an in-depth examination of how these results vary by geographic region and high school characteristics including school locale, racial composition, and income levels. This trend talk, in addition to our reports on postsecondary access and success in Missouri, is intended to encourage civic leaders, educators, and the public to focus on postsecondary access and success when they consider the performance of Missouri high schools.
Findings indicate college enrollment in Missouri has declined and credential attainment has remained relatively stagnant over the last decade. We observe clear differences in college access and success for our students based on school location and student population, with the largest disparities occurring by income and racial composition of high schools.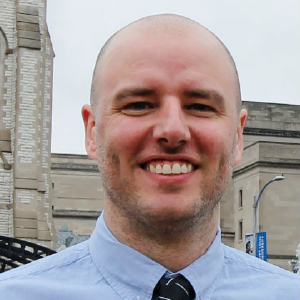 He / Him
Saint Louis University